Tsunami OG is a Kodi addon for streaming everything from old-school film to live broadcast sports streams. The entertainment categories included in Tsunami OG currently include a bit of everything. If you like classic movies and TV, or even live streaming sports, you're gonna love this addon!
Tsunami OG Install Details
With a few installs under your belt, you probably only need the repo address to get Tsunami OG installed on your media center. You'll find Tsunami OG located in its own repository at the http://addons4me.tk/tsunamiogrepo/ URL source location.
Install Tsunami OG Kodi Addon Quick Steps
You'll find the fully illustrated version of the Tsunami OG install guide farther down the page. If all you need is this condensed version of the installation instructions, just make sure you have unknown sources enabled then follow along.
Within Kodi System >> File Manager, click Add Source.
Click <None>, then type http://addons4me.tk/tsunamiogrepo/ and click OK.
Accept the default name of tsunamiogrepo and click OK.
From within Kodi Add-ons >> Add-ons browser , click Install from zip file.
Within the tsunamiogrepo source, click repository.tsunamiogrepo-X.X.X.zip to install the repo.
Navigate to Install from repository >> Tsunami OG Repository >> Video add-ons.
Open Tsunami OG, then click the Install button.
This is a very simple Kodi addon with many, many great features and options. Please enjoy it responsibly.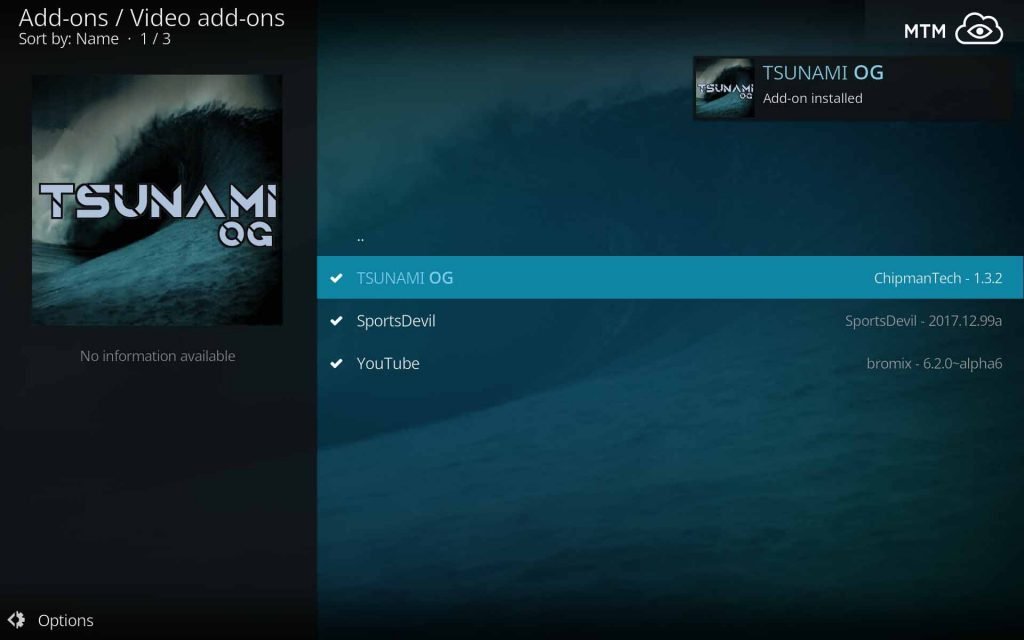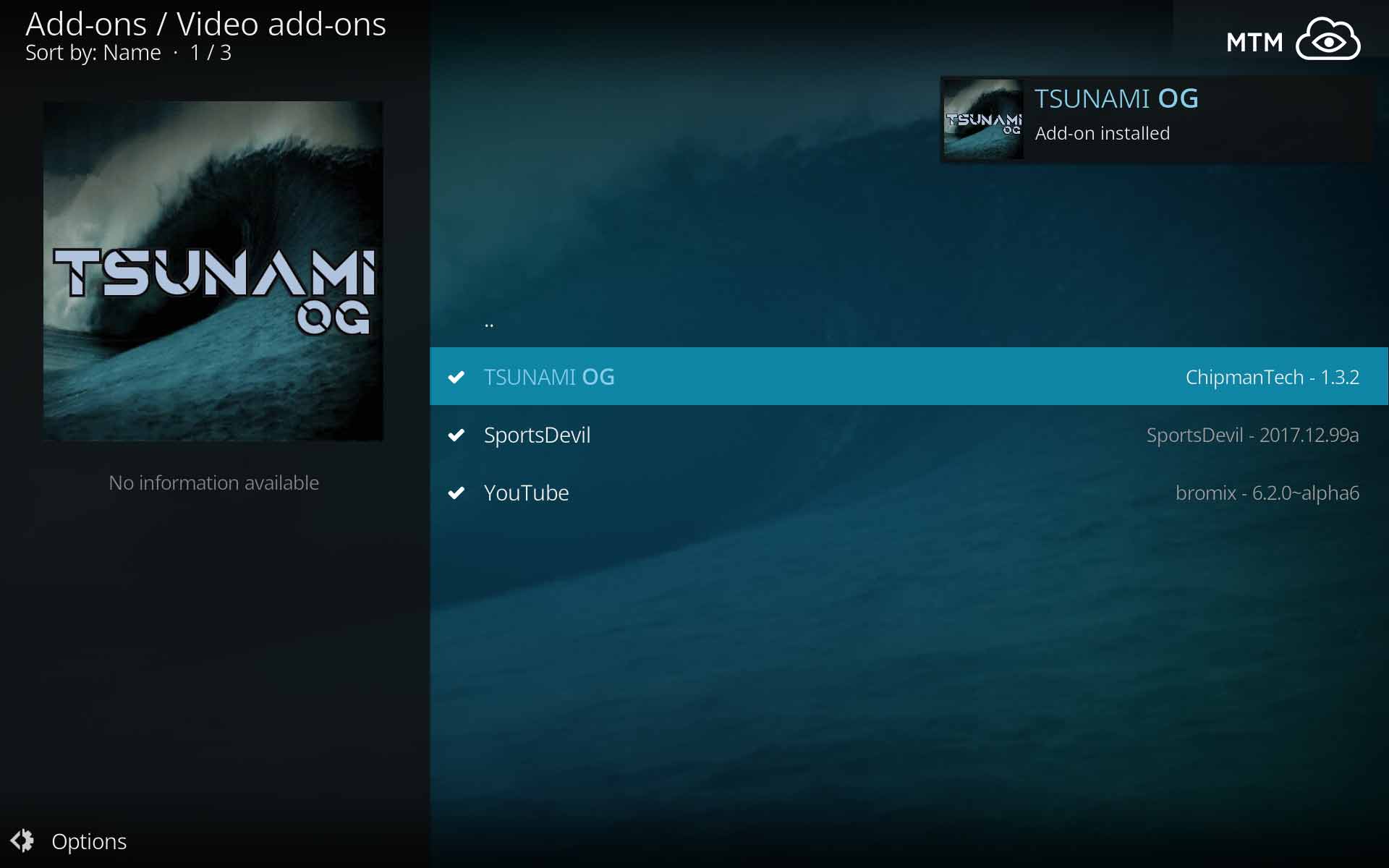 How to Stream Free Content Anonymously
When using Kodi and other free streaming apps, an encrypted VPN is highly recommended to hide your identity, location, and online activities. Many experienced Kodi users, including everyone here at My True Media, prefer Surfshark VPN for price, speed, and privacy.
Providing the fastest VPN server speeds available and helpful 24/7 live chat support, Surfshark VPN has easy to use apps, including a Fire TV Stick native app. We've also arranged a special discount exclusively for My True Media readers.
Right now, you can try the Surfshark VPN app free for 30 days. Get the fastest, most secure VPN available risk-free with their 30-day money back guarantee.
Why is VPN Important?
If unsure what a VPN is, how it works, or why you really should use one, save yourself a lot of trouble and learn more about them.
Read Why Encrypted VPN is so Important: What is VPN?
Illustrated Step by Step Guide To Install Tsunami OG Kodi Addon
We'll start by setting Kodi up to allow installation of Tsunami OG. Then, we'll provide the URL for the Tsunami OG repo to Kodi. After that, we install the repository itself and then install Tsunami OG from within it. Let's get started!
Enable Unknown Sources in Kodi
Kodi 17 Krypton and later require this step be taken before any unofficial Kodi addon can be installed. This includes plug-ins, builds, repos, wizards, and even skins. Please visit our quick and easy Enable Unknown Sources in Kodi article to get this done.
Provide Kodi Tsunami OG Repo URL
Click the System Settings icon on Kodi's main page.

Go into the File Manager.

Click on Add Source.

Click where it says <None>.

Type http://addons4me.tk/tsunamiogrepo/ into the URL field then click OK.

The source will default to the name tsunamiogrepo, which is fine, so double check the URL for typos, then click OK.

How to Install Tsunami OG Repository
Tsunami OG makes a home within its own repository, so won't be found at this time within any of the best Kodi repos. As nice as this addon is, maybe it should be included in a best repositories list.
Back at Kodi's main menu, click Add-ons.

Click the Add-on browser (AKA Package Installer/Manager) icon above the menu.

Enter Install from zip file.

Choose the tsunamiogrepo source location.

Click the repository.tsunamiogrepo-X.X.X.zip to download and install the Tsunami OG repository.

How to Install Tsunami OG Addon for Kodi
Now that its home repo is installed, the Tsunami OG addon is just waiting to be installed from within. Note that Tsunami OG also installs the SportsDevil and YouTube Kodi addons which are used by Tsunami OG for some of its stream access.
Choose Install from repository.

Click Tsunami OG Repo.

Enter the Video Add-ons directory.

Click on Tsunami OG.

Click the Install button.

What to Expect in Tsunami OG Kodi Addon
We spent a lot of time going over the streaming links available in Tsunami OG and found every link we clicked on worked! That is unprecedented with third-party Kodi addons, as many of the more experienced Kodi users among you knows very well. By going through a VPN tunnel and even trying to access streams from multiple VPN locations, we didn't have a single stream fail. This includes the live sports streams.
As mentioned, Tsunami OG has a bit of everything, but that could mean anything. Check out this fantastic list of Kodi channel categories found within the addon (emphasis is my own). Better yet, open it up in Kodi and explore for yourself as things may have changed since this article was last updated. You will not be disappointed.
Tsunami OG Categories Currently Included
Click To Pair
TMDb Movies & TV Shows
Trakt Movies & TV Shows
Black and White Movie Collection
The Duke Movie Collection
Trekkie Fanatics
Low Budget/B-Movie Collection
Moviefone Trailers
Search Moviefone Trailers
Live TV – Live Sports
24/7 TV Shows
24/7 Movies
Documentary
WatchCartoon
YouTube Music
Newscasts by State
Settings
Helpful Streaming Tips
Right above this list of categories within Tsunami OG is a Latest News And Updates menu item. It is a good idea to check this on occasion. You will find very helpful tips and tricks to make your video streaming with this beautiful addon even better. At this time, the top bit of info within the Latest New And Updates is to let you know that turning off metadata within the add-on's settings will speed up the Tsunami OG. This is true of any Kodi addon. Time spent fetching metadata could be better spent watching a show. That's what you want to do, isn't it? Speaking of…
Great Classic Movies Collection
Tsunami OG includes some of the greatest classic films of the 20th century within the Black and White Movie Collection. The Criterion Collection isn't anywhere near this extensive and never will be. You'll find everything from the 'original' "Alice in Wonderland" of 1915 in here to a very extensive collection of Abbot and Costello films.
Do you want Charlie Chaplin or even Betty Boop films? Of course, you can enjoy all the Bela Lugosi or Lon Chaney you want. Also, you can watch tons of classics from artists as varied as Buster Keaton, Bob Hope, Cesar Romero, Charlie Chan, Hedy Lamarr, John Barrymore, Spencer Tracy, Elizabeth Taylor, and even Johnny Cash.
While the Night Terrors Kodi horror addon specializes in Halloween favorites and other scary movies, Tsunami OG has plenty of classic horror film to go around.
There are plenty of great horror films of the early 20th century in here. This may be the best classic Kodi horror addon ever available. From the 1910 Edison Kinetogram production of "Frankenstein" to the Vincent Price classic "House on Haunted Hill" from 1959, you'll find great classic horror, especially if you check out…
Horror, B-Movies, and Scream Queens
Within these masterful Tsunami OG collections, you'll also notice some killer horror films for Halloween along with really low budget B-movies. Some of the best of the worst (and vice versa) demand your attention. Which B-movie queen had the most blood-curdling scream? Find out in the B-Movie Queen subcategory of the Low Budget/B-Movie Collection category. Whether you want to watch sorority girls hacked up, lab assistants turned into snakes, or vampire motorcycles, you will find something quirky enough for your tastes. Speaking of quirky, John Wayne or Star Trek fans each get their own top-level categories.
Live Sports Streaming Online
Tsunami OG has one of the best live sports stream selections ever seen in a Kodi addon. Whether you want to catch your local NFL team playing at home or UEFA Nations League matches, this addon provides the date, time, and stream for you. Want to watch the US Open Tennis matches, MotoGP Grand Prix races, League One, or rugby matches? Find it all in the Live TV – Live Sports category. Note that the live sports section only lists streams for today and tomorrow at this time. While that's the nature of live streaming TV, every NFL game being played this Sunday and Monday was represented by a working live stream (today is Sunday, btw).
Gain Full Access to All Streams
While many ISP (Internet Service Providers) actively block popular third-party Kodi addons, using a VPN with Kodi allows private access to all Kodi add-ons. Surfshark VPN will hide your location and unblock all restrictions. My True Media has been granted an exclusive 83% discount for our readers to take advantage of in June 2022. Try them without risk using the Surfshark VPN 30-day money back guarantee.
Easily Pair Tsunami OG For High-Speed Streams in HD Quality
With a special category devoted to pairing in Tsunami OG Kodi addon with the many available pairing services, you'll never lack for high-quality streams. Within Settings, you'll also find the ability to filter resolvers for debrid, openload.co, thevideo.me, and vidup.me services. If you'd like to turn off hosters with captchas and use your Real-Debrid account for high-speed streaming, that's also easily done with Tsunami OG. A separate area in Settings allows you to turn the use of individual scrapers on and off. These include Streamango, extramovies, m4ufree, Movie321cc, Openload, Putlocker, OceanofMovies, Series9, Watchstream, and many others.
The Click To Pair top-level category is right at the top on the Tsunami OG front page. This wonderful feature of the addon helps you easily pair with various high-speed video streaming services including the following.
Pair for Flashx
Pair for Openload
Pair for Streamango
Pair for Streamcherry
Pair for The video me
Pair for Vid up me
Pair for Vshare
To access some great, fast video streams without a lot of buffering, these pairing services come in really handy. Accessing high-speed pairing services while utilizing the privacy of the Surfshark VPN app provides the best video streaming possible.
May your streams never run dry!
Please Share