You'll find what appears to be a huge number of Virtual Private Network (VPN) services available for the Amazon Firestick and Fire TV Cube if searching online or in the Amazon App Store. The best VPN for Firestick 4K and Fire TV Stick wasn't at all obvious to me until running trials of my own with several of the most popular.
I think you'll agree with my choice of best Fire TV Stick VPN service once you see the results of my testing.
Why Use VPN on Firestick 4K and Fire TV Stick?
An encrypted VPN hides you from the prying eyes of Internet service providers (ISP), corporate and government agencies, school network administrators, and any other hacker intent on invading our privacy. Securing privacy online is only possible with a VPN tunnel providing an anonymous connection to the Internet.
Searching for the ideal Fire TV and Fire Stick VPN that met all my requirements took several months, but I think you'll agree with my findings.
Here are my Firestick VPN requirements…
What Features Make a VPN Best For Firestick?
Unlimited streaming and download speed (no added buffering!)
No tracking or usage information recorded or logged
Remote control compatible, easy to use Firestick app
Easy to install VPN applications for all Internet devices
Friendly, responsive, knowledgeable 24/7 customer support
Reasonably priced (AKA: really inexpensive!)
No questions asked, money-back guarantee for free trial
I had to recruit some of the My True Media staff and their devices to help check and test all the VPN for Fire Stick my initial services research dug up. Both Samamama and Y-IT were especially great helps during the months spent running my battery of tests and compiling information on all the most popular VPN services.
With most of these VPNs offering a free trial period or money-back guarantee, this testing had to be done in an organized way.
The VPN service providers tested include StrongVPN, NordVPN, ExpressVPN, IPVanish, SurfShark, PureVPN, CyberGhost VPN, HideMyAss, and many more. Some of the VPNs tested almost immediately proved unacceptable for streaming.
Even with tough competition in various areas, Surfshark VPN proved over and over to be the best one when all the above listed requirements were compared together.
Surfshark VPN for Anonymity, Ease-of-use, & Price
A VPN provider occasionally offers comparable features to Surfshark VPN. In my experience, none meets every criteria like Surfshark VPN does, especially at their price. The app developed by Surfshark VPN specifically for the Amazon Firestick doesn't play around with your privacy.
Encrypted VPN for Firestick Security & Privacy
With a very affordable price and powerful feature set, the Amazon Firestick 4K has become the most popular streaming device in the world.
The huge selection of free streaming apps available for the Firestick also plays a big part in its massive success. Whether you want to unblock and watch live IPTV channel content or an on-demand TV show or movie, the Firestick delivers best. Apps such as Kodi, UnlockMyTV, and CatMouse provide endless free streaming movie and TV entertainment for millions of cord cutters around the globe.
Most cord cutters prefer to use free streaming apps on their Firesticks anonymously. This goes back to the fact that using the best Fire Stick VPN makes your location and activities online invisible—even to your WAN administrator or ISP. If not protecting your privacy with a VPN, then your identity, location, and activities are being monitored and logged.
The laws in most countries, especially the USA and UK, benefit corporate interests rather than individuals more and more every day. Law makers in many countries have recently given ISPs the legal right to access, record and sell data information about online activities when their customers connect. This alone is reason to protect all your Internet devices with a VPN.
Fastest VPN Streaming & Download Speed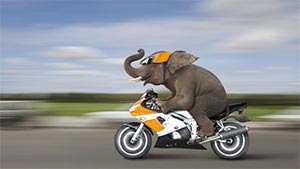 Even with the top VPN protecting your device, there may be a decrease in Internet speeds. That's the nature of routing your traffic through VPNs (an extra server online). The VPN app being used can also cause a slow-down due to computing resources such as how speedy your processor and memory are.
While most people online are lured by things advertised as free, download speed and secure encryption were the most important criteria in our testing for a VPN to be used when we connect a Firestick device. With our streams on the line, excessive buffering from bandwidth throttling and dropouts are not acceptable, even when only using Hulu or Netflix.
Related: Speed Up Slow VPN Connections
Many of the best VPNs tested for Firestick, even some of the top contenders mentioned above, lease their VPN servers from third-parties. This often means you risk network bottlenecks and slow streaming speeds on a Fire Stick.
Surfshark VPN is one of very few VPN service providers that own and operate all their VPN servers and other network resources. This provides the fastest download speed possible. The app and server combination from Surfshark VPN had the least buffering (very important!) when streaming movie and TV show content—especially with live news and sports.
This fact along with their reliable, easy-to-use Fire TV Stick application that just works are why Surfshark VPN is our choice of best Amazon Fire Stick app to install for streaming activity. Using most VPNs to connect a Firestick device online, you still get bandwidth throttling. You need the premium security of the specialized Amazon Fire Stick Surfshark VPN app to unblock and experience unlimited stream activity.
Surfshark VPN has over Surfshark VPN dedicated IP addresses on 1040+ privately owned servers located in over 62 countries around the world. This places Surfshark VPN as the undisputed king when it comes to VPN download and streaming speeds and uncensored access.
No Logging or Tracking Your Internet Activities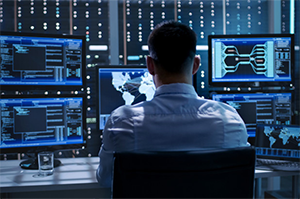 Surfshark VPN has a strict no logging policy; this includes both traffic and connection logs. Unlike many of their top competitors, Surfshark VPN never track or record any information about your VPN sessions.
When using Surfshark VPN, your browsing history, streaming activities, download info, and even your time of Internet access remain your own to know. Never will they keep a record of your connection information.
While there are many free VPN services available, we began our testing method with a few of them thrown into the mix. This is where every one of them falls down flat.
To keep their VPN servers running, most free VPNs must gather your data and other info and sell it in bulk. "Free" VPN services actually make a lot of money doing this. The ones that don't are doing far less scrupulous things with your use of their so-called free apps and services.
Full Remote Control Function on Fire TV Stick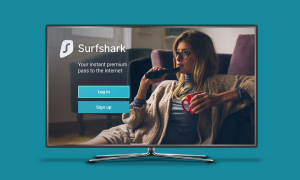 Most secure VPNs that work to hide your Firestick on the Internet require you to side-load their free Android APK file to install them. This Android retrofit isn't terribly difficult, as you can see in our Kodi installation guide and many other great Firestick app articles, but it does relegate the top Firestick to second class citizen.
Surfshark VPN made a really easy to understand and use encryption app especially for Amazon Fire TV and Firestick stream access. They didn't just retrofit an Android app for install.
They then placed that premium app on Amazon for the easiest install possible. Simply type "Surfshark VPN" in the App Store search to download the fastest VPN for Fire devices.
Special Notice: No VPN applications work on a first generation Fire TV Stick due to the processor being used in that model, not even Surfshark VPN. The first gen Firestick cannot have apps running in the background. VPN apps must run in the background in order to connect and work while you do other stuff (like streaming!). First-gen Firesticks must access networks through a VPN protected router to stream safely. If you bought your Firestick in 2017 or later, a VPN app should work just fine on your device. The first generation models were discontinued in late 2016.
The Surfshark VPN app for Firestick works perfect with the Amazon Fire TV remote control. Many of the Android apps available from other VPN service providers were made for Android tablets and smartphones and require touch screens to use them properly.
Use VPN On unlimited Devices at Once Including Firestick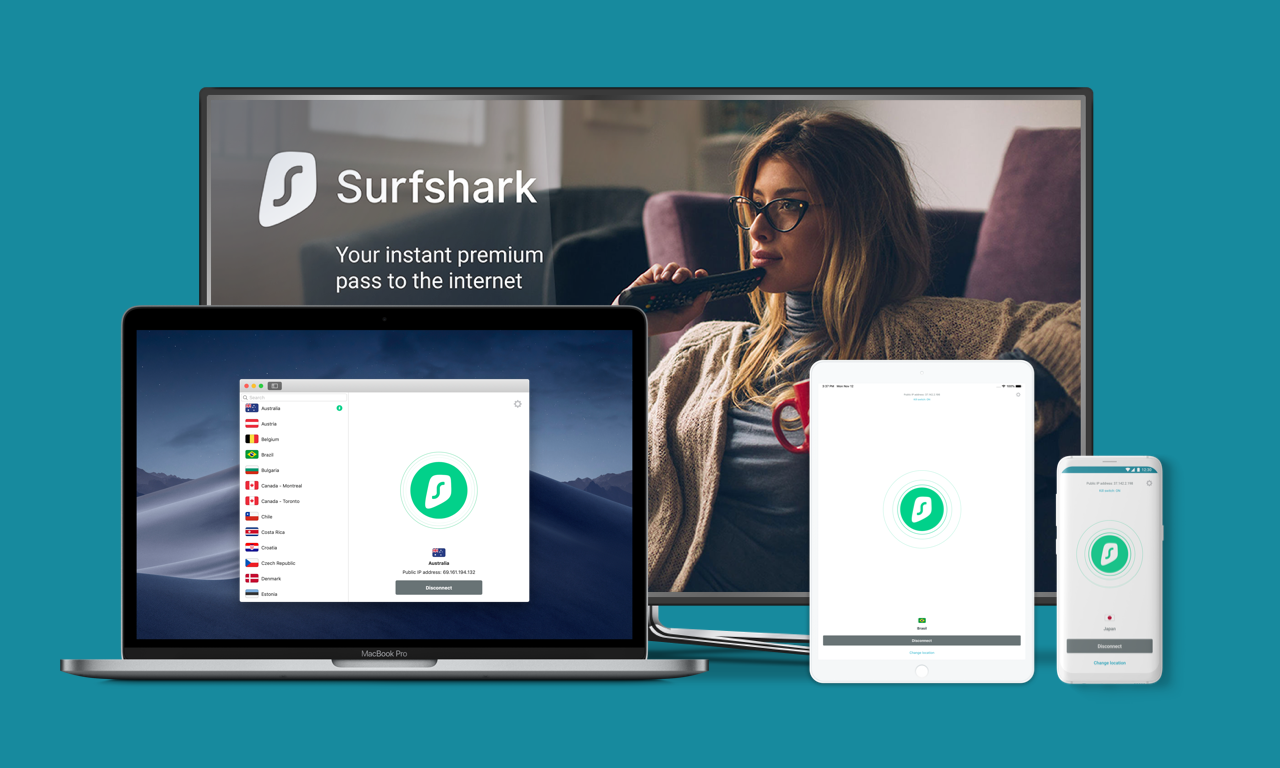 Surfshark VPN doesn't only have the best Firestick app option. They also provide specialized applications for Android, Windows PC, Macintosh OS X, iOS, Linux, Windows Phone, several different WiFi routers, and even Chromebook.
With one account, you can protect unlimited devices by connecting to the Internet securely through Surfshark VPN.
Related: Download and Install the Best iPhone VPN App
Having my entire home network protected with Surfshark VPN and still having all our devices protected when on the go is a comfort. Nobody should ever use public WiFi without the protection of a VPN.
Customer Support & Guarantee
I've found Surfshark VPN customer support to be some of the best in the business. They really know their stuff when it comes to security online. They're patient, friendly, and really easy to understand.
Available all day every day, you can easily chat with Surfshark VPN support staff anytime via their live chat. This is available on every page of their website.
Feel free to ask them about their 30-day money-back guarantee. If for any reason you don't believe Surfshark VPN is the best VPN service for your Amazon Fire TV Stick, they will cancel your order and refund every cent in that time. Even if you don't have a reason and just had a change of heart, they will refund your money.
I think you'll be happy with the Surfshark VPN speed along with all the other benefits of keeping your location, identity, data, and activities private. Soon you'll be streaming movies, TV shows, and even live sports anonymously, which is the only safe way to do so. Make sure to tell them Alice on Fire said "Hi" and%hellip;
May your streams never run dry!
Please Share!