Everything old is new again! Over-the-air (OTA) TV has been around for over 90 years yet is making a resurgence. This revival is in part because of price gouging by the cable companies and the resulting cord-cutting.
Want to supplement your Amazon Prime, Netflix, or other streaming services with some local news? While cutting costs, watch the local news and the best TV shows, sports, and series… all for free.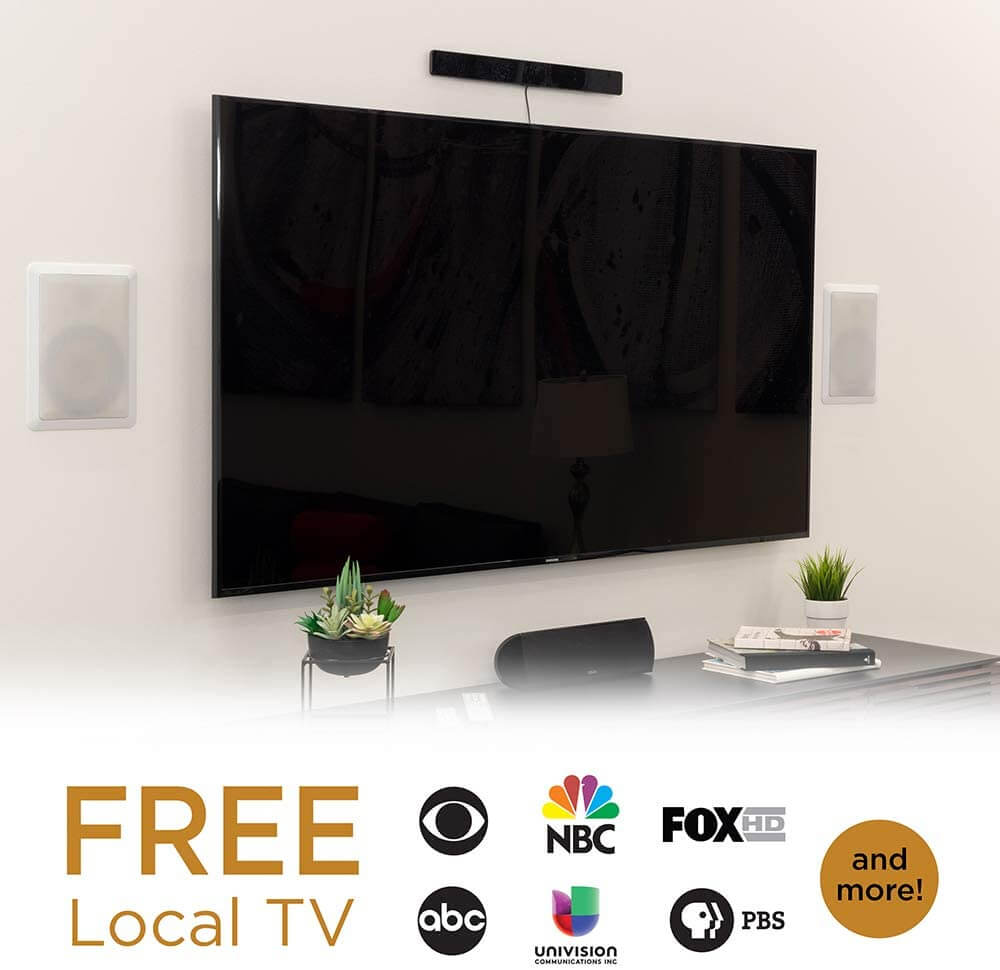 Aside from a television set, there's just one small accessory you'll need; an over-the-air TV antenna. Fortunately, TV antennas have evolved since the tinfoil wrapped wire coat hanger rabbit ears of yesterday.
From the top long-range pick to the best budget option, we've got you covered.
Wish to Ditch Expensive Cable TV Subscriptions?
Paid streaming services will provide lots of great video-on-demand programming, but a good antenna will get you free local live broadcasts from the major networks both in SD and HD.
TV antennas are great tools that allow you to watch local TV stations. You can enjoy live sports, the evening news, and far more… all for free. Depending on where you live and your proximity to TV station broadcast towers, you can watch the US's following networks: NBC, CBS, PBS, The CW, Fox, ABC, Univision, and even Telemundo.
If searching for free channels streaming online that aren't available through local broadcasts, make sure you have a VPN app running. Protect yourself whenever you're online, especially when using free streaming sites and apps. Your location and activities are always visible online when not using the encryption of a virtual private network.
Top 7 TV antenna for cord-cutters in 2020, starting at only $10
This MTM review shares my top TV antenna picks based on various criteria and price points. The best TV antennas can pull in more channels than competitors and deliver more robust, crystal clear TV signals. Here are my top seven picks based on the TV antennas tested.
How well an over-the-air TV antenna works is based primarily on its location, location, location, much like real estate investments.
Top Pick: Antennas Direct ClearStream Eclipse
The Eclipse is a powerful indoor antenna with multiple features, including an included 12-foot coax cable. Its sticky tabs create a tacky surface that makes finding the right position easy; it even sticks to windows for capturing signals. Amplified options are even available for tough locations far from towers.
The Antennas Direct ClearStream Eclipse pulled in more channels at a higher strength than the other indoor TV antennas tested. Its standard model is rated to find UHF/VHF HDTV channels within a 35-mile radius and can be paired with a 20 dB active amplifier to give you even more reach.
35+ Mile/55 KM range
Multi-Directional
Grips to Walls/Windows
12 ft. RG-6 Cable
4K Ready
Black or White (paintable)
35, 50, 60 and 70 Mile Style Options
Check the Antennas Direct ClearStream Eclipse price on Amazon.
Premium: Channel Master SMARTenna+
SMARTenna+ designed by Channel Master is the premium, smart antenna. With a built-in amplifier/noise filter system, SMARTenna+ automatically selects the optimal antenna pattern for available channels.
The reversible white/black design allows for flexibility and coordinates with any entertainment center. Easy install videos are available through the manufacturer that teach how to install this premium antenna for maximum performance. If cost is no option, I highly recommend this state-of-the-art antenna.
Provides Maximum Indoor Signal Range
Active Steering Technology
Automatically Picks Up Channels at the Highest Possible Quality
Seven virtual TV antennas in one
Push Button Fine-tuning (No Repositioning of the Antenna Needed)
Built-in High Gain Amplifier (Up to 18dB) with Low Noise (Less than 1dB)
Built-in Low Noise (Less than 1dB)
Built-in LTE Filtering to Remove Pixelation and Interference Caused by Cellular Signals
Shop Channel Master SMARTenna+ on Amazon.
UltraPro TV Antenna
UltraPro TV Antenna, 4K, and HD-ready get great reception up to 50 miles from a broadcast tower. Its slim, discreet design is compact and easy to pack for traveling. This model comes with an attachable stand for tabletop placement or mounts on the wall above your TV.
I found this antenna works great when paired with a Firestick, allowing you to ditch expensive cable and satellite services in favor of IPTV services, great free streaming apps, and local broadcast stations.
Long Range Indoor Amplified Antenna
Compatible with all Brands TVs
Built-in PureAmp Technology
Crystal-clear Reception of HDTV VHF
Gets Channels 50 Miles from the Broadcast Source
Long sleek Bar Design replaces traditional dipoles
Designed to enhance VHF signal reception for the highest number of over-the-air channels
Slim Design complements any Entertainment Center
Simple Connection Setup
Manual Channel Scan to pull in Available Channels
Shop UltraPro TV Antenna on Amazon.
1byone Upgraded 2022 Digital Amplified Indoor HD TV Antenna
1byone HDTV antenna is a must-have for the budget-conscious consumer. Its paper-thin design and 3M stickers allow the antenna to be mounted to a wall or window or place upright or flat on a table.
The 1byone upgraded antenna pulled in nearly as many stations as the Eclipse when close to a city. But, it doesn't offer optional mile upgrades for better reception if the distance to towers and obstructions is an issue.
Free HD Channels
Omnidirectional Antenna Receives UHF and VHF Signals
Premium Coaxial Cable
Automatically Scans for New Channels
Built-in Smart IC Chip Next Generation and Clear Technology
Small & Lightweight TV Indoor Antenna
Plug-and-play Setup
Shop 1byone Digital Amplified Indoor HD TV Antenna on Amazon prime.
Mohu ReLeaf (Eco)
Mohu ReLeaf is made from 100% recycled cable set-top boxes to minimize environmental impact wasting fewer energy resources. While the eco-friendly design is not as durable as the plastic competitors, Mohu ReLeaf pulls in channels with ease.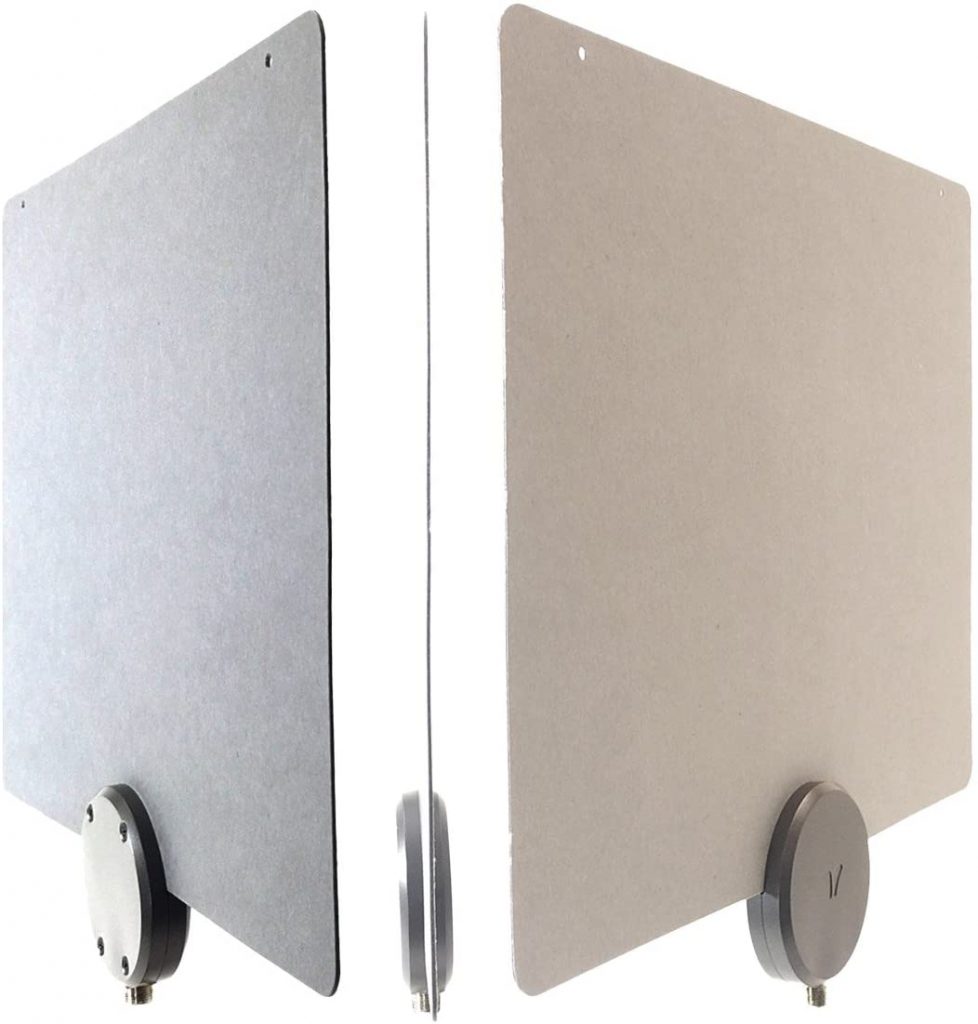 Like the original, Mohu Leaf, this model comes with a 10-foot removable coax cable. When tested, it performs better than the original Leaf. It attaches to the wall with nails or pushpins, which may damage your wall slightly. Cut the cord and go green at the same time by choosing Mohu ReLeaf.
World's first Recycled HDTV Antenna
Reach up to 30 Miles
10 FT Coaxial Cable
Multi-directional and Reversible HDTV Antenna
Reception Dependent on Location
Neutral Color
Shop Mohu ReLeaf on Amazon Prime.
RCA Outdoor Yagi Satellite HD Antenna
RCA Outdoor Yagi Satellite HD Antenna gives superior reception without being overly environmentally intrusive. This compact, outdoor/attic antenna is designed to integrate seamlessly into any home environment while providing maximum signal reception.
This outdoor option is excellent for those living in single-family dwellings that want to get free local high-definition television. With – no monthly fees, no subscription, and no contracts, RCA's Yagi Antenna delivers channels with over a 70-mile range.
Great Complement to Streaming Players
Finds TV broadcasts including 4K, 8K, and 1080 HDTV
Both UHF and VHF Frequencies
Up to 70+ Mile Range from Nearest Broadcast Towers
Withstands Tough Outdoor Conditions
Mounts in the Attic or Outdoors
Easy Installation with Pre-assembled Design
Includes Mast, Locking Mast Clamp, Mounting Hardware, and 75-ohm Matching Transformer (coax cable sold separately)
Free RCA Signal Finder app
Shop Amazons Choice RCA Outdoor Yagi Satellite HD Antenna
Five Star Outdoor Digital Amplified HDTV Antenna
FiveStar with a 200-mile range, directional 360-degree rotation, HD 4K 1080P FM radio is constructed of durable waterproofed material. Supporting 5 TVs at once, Five Star is an excellent choice for single-family dwellings in out of the way locations. I recommend purchasing the full kit that comes with the installation kit and mounting pole.
The remote-controlled design allows for the rotation of the antenna for the best signal reception.
Supports HDTV 1080p,1080l,720p Broadcasts
Digital TV and HDTV Ready Antenna
Full band DTV/VHF/UHF Receiver
360 Degree Rotation Wireless Remote
Easy Bracket Installation
Gain 15-35db – Auto Gain Control
Operating Frequency 45-860MHz – receive DTV/VHF/UHF signal
Reflectors – 20% more gain area for VHF signal
Elements for best gain on UHF signal
Enhanced weatherproofed material
Shop FiveStar.
Thanks For Reading!
Ditch expensive cable and satellite services and still enjoy your favorite local news and shows in full 1080p HD. Enhanced reception makes these 4K Ultra HD-ready antennas ideal for streaming digital content, too.
There's no better time than now. Cut the cord, save money, and…
May your streams never run dry!
Please Share