Supreme Builds Wizard repo has an enormous library of Kodi builds used for streaming free movies, live sports, TV shows, and more. Brought to us by the Stay Supreme team, Supreme Builds Repo houses the Titanium Kodi Build and other popular builds packaged with stellar working add-ons. This team effort results in a genuinely impressive Kodi build wizard.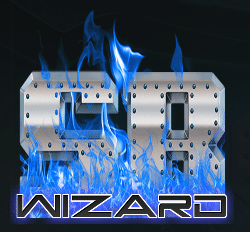 Whether looking for a fully-loaded or small, lightweight Kodi 18 Leia or Matrix 19 build, you'll find it in the Supreme Builds Wizard Repo.
Great Kodi addons and builds included for 18 Leia are Titanium Build, Cell-X5, and Juggernaut. If seeking Kodi 17.6 Krypton builds, you'll find Titanium, Supremium, X4, Juggernaut, and Hooligans housed here.
In this tutorial, I demonstrate how to install Supreme Builds Wizard Repo on Kodi 18 Leia using an Amazon Firestick 4K . These same steps will work on other Fire OS, Windows, MacOS, and Android Kodi boxes along with any other Kodi streaming device.
Install Supreme Builds Wizard Repo On Kodi 18 Leia or 19 Matrix
Look farther down the page if needing a more detailed, fully illustrated install guide for the Supreme Builds Wizard repository. Here, I provide the necessary info for experienced Kodi users.
Team Supreme Builds Repository Location Details for Advanced Kodi Users
Repo Name: Supreme Builds Repository
Source URL: http://repo.supremebuilds.com
Quick Supreme Builds Wizard Repo Install Steps
The first required action is to enable unknown sources in Kodi before installing the Supreme Builds Wizard repository. This setting shift is required before installing the Supreme Build Wizard repo on either 17.6 Krypton or the latest Leia versions.
Navigate to and click the Settings icon , File Manager then Add Source in the left column.
Click <None> and enter http://repo.supremebuilds.com/ then click OK.
Name this supreme and click OK.
Back at Kodi >> Add-ons, click the Add-ons browser icon in the top left.
Click Install from zip file, choose supreme then click OK.
Select repository.supremebuilds-x.x.x.zip then click OK.
Choose Install from repository >> Supreme Builds Repository >> Program add-ons.
Click the Supreme Builds Wizard then hit the Install button.
Once installed, the Supreme Builds Wizard should auto-start to walk you through the build installation process. If you'd like to wait and install a Supreme build later, just quit the wizard. You'll find it available in your Kodi Program Add-ons when you're ready to install a build.
How to Stream Free Content Anonymously
When using Kodi and other free streaming apps, an encrypted VPN is highly recommended to hide your identity, location, and online activities. Many experienced Kodi users, including everyone here at My True Media, prefer Surfshark VPN for price, speed, and privacy.
Providing the fastest VPN server speeds available and helpful 24/7 live chat support, Surfshark VPN has easy to use apps, including a Fire TV Stick native app. We've also arranged a special discount exclusively for My True Media readers.
Right now, you can try the Surfshark VPN app free for 30 days. Get the fastest, most secure VPN available risk-free with their 30-day money back guarantee.
Why is VPN Important?
If unsure what a VPN is, how it works, or why you really should use one, save yourself a lot of trouble and learn more about them.
Read Why Encrypted VPN is so Important: What is VPN?
Illustrated Supreme Builds Wizard Repo Install Guide
Almost all of the best working Kodi repositories require the same installation procedures detailed below in this step by step guide. Once you have experienced this process a few times, you'll be able to skip the step by step guide and use the repo name and source provided at the top of any MTM repository installation article.
As previously mentioned, you must enable unknown sources in Kodi Krypton 17, Leia 18, Matrix 19, or any newer version before moving on to the installation steps. This security setting shift is a required step if planning to install any Kodi third-party addon.
Provide Kodi Supreme Builds Wizard Repo Source URL
On Kodi's main top menu, click the Settings icon.

On the next window click File Manager.

Then, choose Add Source in the left column.

In the following window click on <None>.

Use the keyboard on the screen and type http://repo.supremebuilds.com/ then click OK to finalize.

Name this source supreme, check the repo source URL for errors, then click OK.

How to Install Supreme Builds Kodi Repository
If using Kodi 17.6 Krypton, return to Kodi's main menu and click Add-ons on the left, then click the box icon up top to enter the Add-ons browser (AKA Package Manager).


In Kodi 18 Leia, enter the Add-ons browser from within the Kodi Settings area.

Click Install from zip file.

Within the Supreme Builds source (named "supreme" earlier), click the repository.supremebuilds-x.x.x.zip file to begin Supreme Builds Wizard repository install.

That's it, folks! Supreme Builds Wizard repo is now at your disposal on Kodi Leia once you see the "Supreme Builds Repository installed" notification.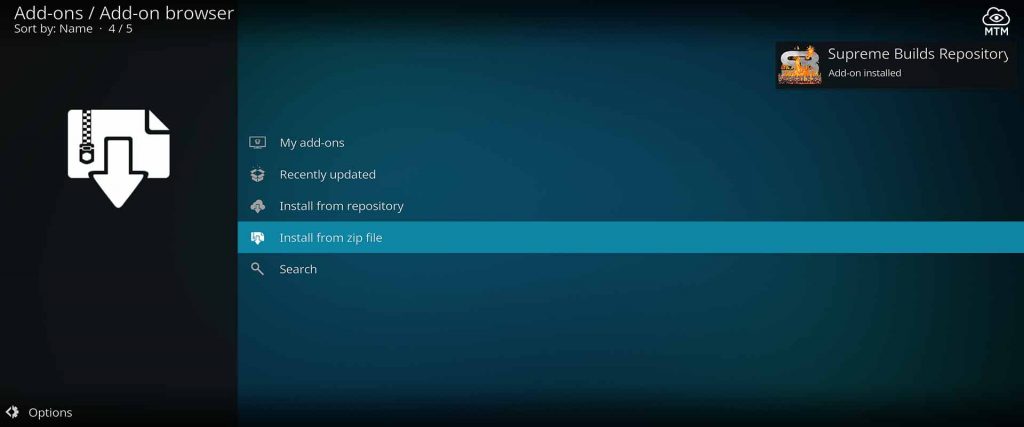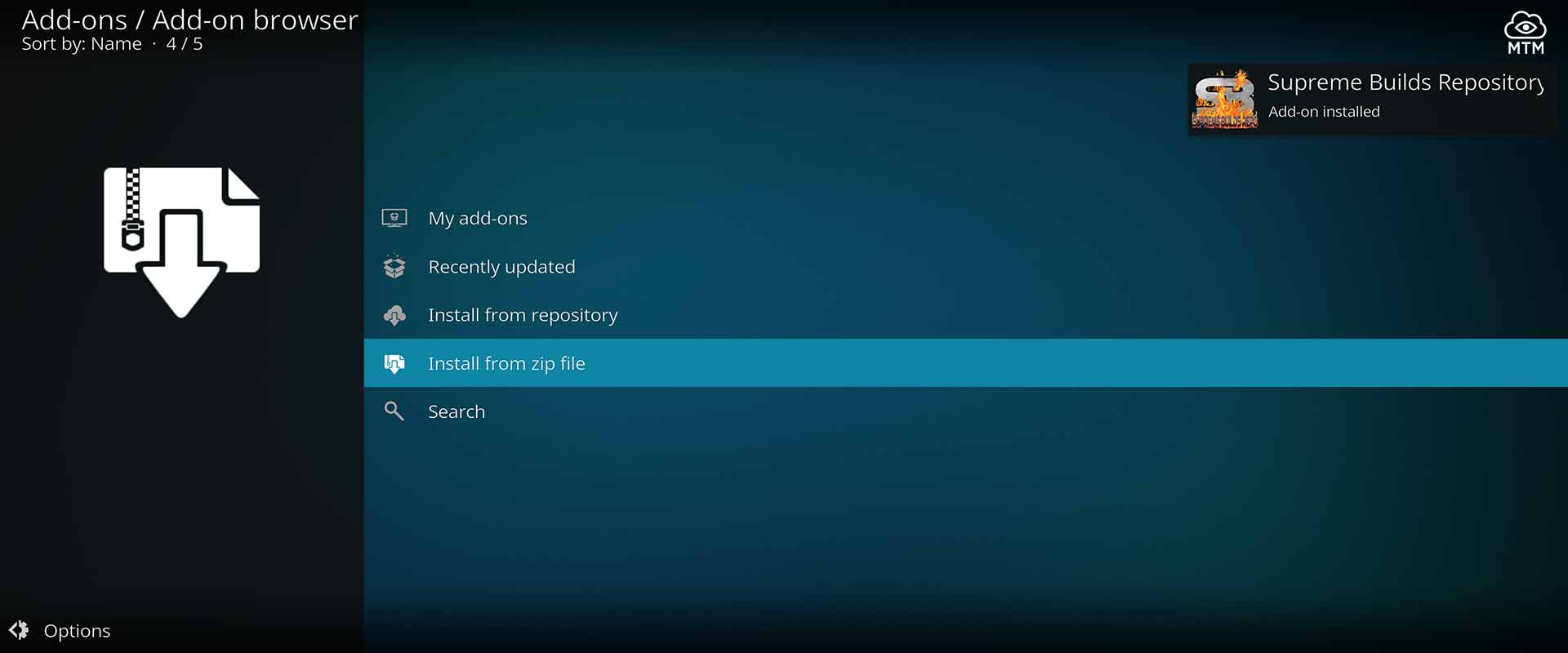 How to Install Kodi Supreme Builds Wizard
Now, install the wizard by clicking Install from repository.

Click to enter the Supreme Builds Repository.

Then, click Supreme Builds Wizard within the Program add-ons directory.

To finish the wizard install process, click the Install button on the bottom right.

Once installation completes, Supreme Builds Wizard Add-on Installed notification shows up in the top right of the screen.

The wizard should auto-start, but can be dismissed if you wish to install a build at a later time. Popular Supreme Builds can now be accessed through the wizard by navigating to Add-ons > Program Add-ons from the Kodi main screen.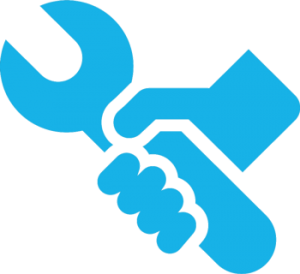 Along with some of the best working Kodi builds, the wizard maintenance area is often used to help with buffering. This repository also installs some of the best Kodi add-ons of 2022 pre-packaged within builds available for Leia and Krypton.
Many of the builds in the Supreme Builds Wizard are available for download from multiple servers in the USA, Canada, Europe, and Asia. Server options provide redundancy in the case of a server going down. This redundancy also allows the installer to pick a location that gives them the best download speed.
Supreme Builds for Kodi 18 Leia and 19 Matrix
Cell-X5 Build
Supremium Build
Along with these popular 19 and 18 Leia builds, there are several top builds for Kodi 17.6 Krypton from other great developers in the Kodi community.
Supreme Builds for Kodi version 17 Krypton
Titanium Build
Supremium Build
X4 Build
Juggernaut Build
Hooligans Build
Each of the above builds has an extensive collection of custom build themes for you to install with the Supreme Builds Wizard on Kodi Matrix or Leia.
Is Supreme Builds Wizard Repo Down or Not Working?
Supreme Builds repository has stood the test of time and is currently working great, but Kodi repositories tend to go offline now and again. I'll make sure to place a message at the top of this page if the Supreme Builds Wizard repository status changes. Kodi repository servers get rebooted on occasion but usually come back online quickly.
Gain Full Access to All Kodi Add-ons
Get full access to all Kodi community add-ons by using a VPN. It's true that many ISP (Internet Service Providers) deliberately block users of third-party Kodi addons, which can make add-ons appear like they are broken and missing active links. The Surfshark VPN app hides your location and identity while unblocking the online restrictions imposed by ISP and government agencies, including censorship.
I'm extremely happy to share that My True Media has been awarded an exclusive, limited time 83% discount for select readers to take advantage of. Try the Surfshark VPN app today without risk by taking advantage of the Surfshark VPN 30-day money back guarantee.
Enjoy Supreme Kodi Builds
The interface of the Supreme Builds Wizard makes it easy to download all the top Kodi Builds for 18 Leia and 17.6 Krypton and now 19 Matrix. I highly recommend you upgrade Kodi to the latest version of 19 Matrix if you're running an older version unless your streaming hardware does not allow.
Supreme Builds Wizard repository contains loads of great Kodi builds with pre-packaged Kodi add-ons. Go enjoy seemingly unlimited streaming TV shows, free movies, live sports, music, news, and…
May your streams never run dry!
Please Share